Mon Aug 28, 2017 5:30 pm
Message reputation : 100% (1 vote)
Hey you! Yes, all of you! 
Because we cannot thank you enough for supporting our site, HabboPinas Points & Rewards are finally here!
Want to win some awesome items? How about a 14 day or a month of HC?
To get points, you just need to have a HabboPinas Forum Account!
(I'm not yet registered! What do I do?)
Don't worry! You can register for free! You can also connect your FB account on our forums so it'll be easier!
(Okay, I have an account now! How do I earn HP Points?)
Here are the ways to earn HP Points:On HP Forum


  Login everyday and you will earn +1 point!

  Posting a topic/thread will earn you +3 points!

  Posting a reply on a topic/thread will earn you +1 point!

  Adding friends on this forum can also earn you +2 points!

On HP Trivia Giveaways


By tuning in and winning the trivia, you will earn +20 Points!

On HP Game Events


Winning in a game will also earn you +20 points! 

These are the special items you can get from earning points!
At the left side of the forum, you can see an "HP Points Shop" tab where the special items are listed and the amount of points you will be needing.
Items may change from time to time (depends on the availability of the item) so do check out our Forum everyday!
Now what are you waiting for?  
START EARNING YOUR POINTS TO RECEIVE THESE REWARDS! 
(I don't know how many points I got? Where do i check them?)
To check how many points you have, click on "Welcome (Your username)" And click "View Profile"
The number of points will be listed on your profile!
You can also see your HP points on your side profile when you post or comment on a topic/thread.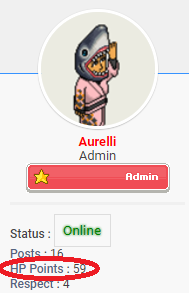 (I already have enough points for an item. How do i get my rewards?)
If you want to get your rewards using your points, kindly contact the Forum Admins. Leave a message or approach them on HabboPinas Official Tambayan!
HAPPY EARNING !!!!
Lean

Staff

Status

:


Posts

: 64


Join date

: 2017-08-03


Age

: 22

Tue Aug 29, 2017 7:10 am
Message reputation : 100% (1 vote)
Wow! This is...... definitely 
_________________
Join us to the Official HabboPinas Tambayan!
Click
HERE!
@Lean

wrote:

Wow! This is...... definitely 
ikr 
  start earning na!!!!
TrinaTheFurious

Staff

Status

:


Posts

: 39


Join date

: 2017-08-03


Age

: 25

I got my eyes on the prize!!! 
_________________
Permissions in this forum:
You
cannot
reply to topics in this forum